Description
Group Home Cookbook Series
The "Group Home Cookbook" has now become a series. This very popular cookbook would not fit into one book anymore. Now you can enjoy a greater variety of the healthy and delicious recipes in an array of books. Each recipe is simple enough for a beginner cook. The recipes selected will assist you in meeting the nutritional needs of the consumers. The series has over 1000 nutritious recipes.
The Group Home Cookbook series is often used by health care individuals with smaller populations. These books are ideal for group homes, rehabilitation centers, board and care communities, and small schools. The recipes are standardized for 8 servings. Each recipe includes food safety guidelines, therapeutic diet modification guidelines, texture diet modification guidelines, and allergy alerts.
Each recipes has guidelines for each therapeutic diet plans.
Therapeutic diet guidelines * included are:
Lowfat
Diabetic
Bland / Anti Reflux
Liberal House Renal
No Added Salt (3-4 g. sodium)
Low Sodium (2. Gram sodium)
Gluten-Free
*Special therapeutic diet should be done under the supervision of medical physician. Always consult your medical physician before starting any type of special diet.
New Texture guidelines include the new International Dysphagia Diet Standardization terminology.
The new texture guidelines will transition your facility to the new dysphagia standards.
Soft and Bite-Size, Chopped, Minced and Moist, or Puree
General description:
Soft and Bite (Food particle size ~ ½ inch or width of standard fork)
Chopped (Food particle size ~ ¼ inch or HALF the width of a standard fork- for children, developmentally disabled or cognitive decline)
Minced and Moist (Food particle size ~ 1/8 inch or fits through the prongs of a standard fork. Otherwise known as Minced, Ground, Mechanical Soft. )
Pureed (a smooth cohesive consistency)
The list of cookbooks included in the series are:
Click on the Title to Order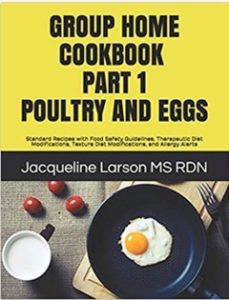 Group Home Cookbook Part 1 Poultry and Eggs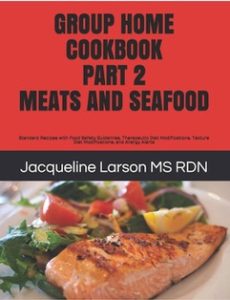 Group Home Cookbook Part 2 Meats and Seafood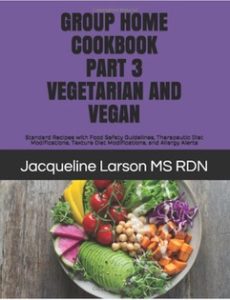 Group Home Cookbook Part 3 Vegetarian and Vegan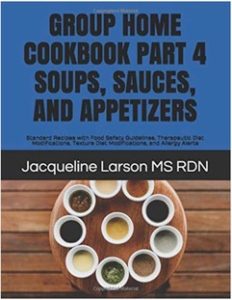 Group Home Cookbook Part 4 Soups, Sauces, and Appetizers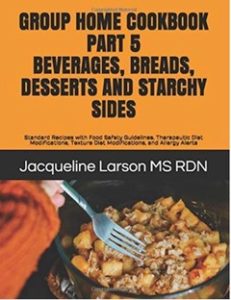 Group Home Cookbook Part 5 Breads, Starchy Sides, Desserts and Beverages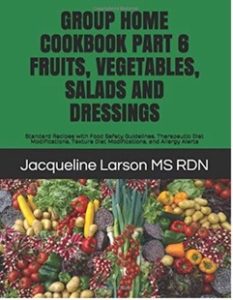 Group Home Cookbook Part 6 Fruits, Vegetables, Salads and Dressings